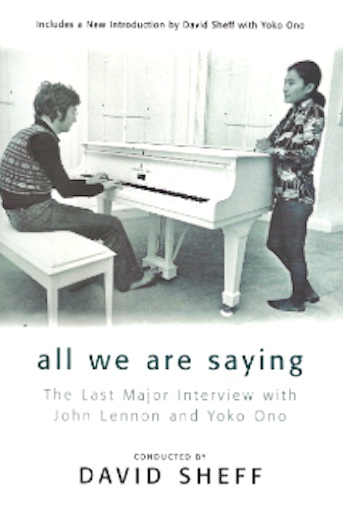 THE LAST INTERVIEW WITH JOHN LENNON AND YOKO ONO
with a new introduction by David Sheff and Yoko Ono
Writes David Sheff: Read their words, again or for the first time. I know how much John and Yoko's experience influenced my life, so I know how it can influence others' lives. Their message is simultaneously complex and simple: Know yourself and learn to think for yourself. Love is the answer. Do for others when you are able. Though living is easy with eyes closed, we must fight the impulse. If we don't like what we see, change it. At least try. Celebrate life. Imagine a better world.
That's all they are saying.
"A fascinating, detailed glimpse into the workings of a musical genius….A valuable piece of work." – Joe Klein, NY Times Book Review
"David Sheff's sympathetic questions evoked so much of the Beatle past and of Lennon's intellectual past and present and future plans that the interview would hardly have been less engrossing and important even it if were not illuminated by tragedy." – Charles Champlin, Arts Editor, Los Angeles Times
"The interview is lively proof that some of the best Lennon/Ono art was their life." – Jay Cocks, Time
"The most revealing self portrait of John Lennon's career…." – People
"At the Dakota, the elderly guard, more a fixture than a comfort in front of the gray, ghostly apartment house, opened the car doors for us. John greeted the man by name and hastily but gently smiled for some snapshots posed with a fan who had been waiting up late just on the off chance of meeting him. After two quick flashes of the bulbs, John blindly headed for the entryway. Blinking to regain his eyesight, he stopped short. "Oooop, dear, I hope you have your house key. I forgot mine." Yoko didn't answer but used her key to call the elevator. John looked sheepishly at me. "I needn't have asked," he grinned.
Within the apartment, John guided me through a hall covered with photographs to the kitchen, where he instructed me to wait while he freshened up. Yoko was off in a different part of the apartment. As I looked around the huge, freshly painted kitchen, stocked with containers of tea and coffee, spices and grains, I heard voices from a distant bedroom: a child's giggling and a father's mock scolding. "So, you rascal, why aren't you asleep? Ahh haa!
"Well, I would have kissed you goodnight even if you were sleeping, silly boy."
John came tripping back into the kitchen, wholly revitalized, and, while putting a pot of water on to boil, he explained that their child Sean wasn't used to his and Yoko's new schedule, working on the album all hours. Before this project, John had been home virtually all the time.
Yoko entered the kitchen, wearing a kimono-like robe, and John poured three cups of tea. "Well, shall we start?" he asked as he sat down.
I looked at the two of them, waiting intently, and began. "The word is out: John Lennon and Yoko Ono are back—"
John interrupted immediately, and laughingly nudged Yoko. "Oh, really?" he joked. "From where?"
I smiled and continued: "—in the studio, recording again for the first time since 1975, when they vanished from public view. What have you been doing?"
John turned playfully to Yoko. "Do you want to start, or should I start?" he asked.
"You should start," she replied firmly."
"I should? Really? OK…" John leaned back in his chair, his hands clasped tightly around the cup of tea. He watched the steam float upward as he began.
LENNON: I've been baking bread.
DS: Bread?
LENNON: And looking after the baby.
DS: With what secret projects going on in the basement?
LENNON: Are you kidding? There were no secret projects going on in the basement. Because bread and babies, as every housewife knows, is a full-time job. There ain't no space for other projects.
After I had made the loaves, I felt like I had conquered something. But as I watched the bread being eaten, I thought, Well, Jesus! Don't I get a gold record or knighted or nothing?
And it is such a tremendous responsibility to see that the baby has the right amount of food and doesn't overeat and gets the right amount of sleep. If I, as housemother, had not put him to sleep and made sure that he was in the bath by 7:30, no one else would have. It's a tremendous responsibility. Now I understand the frustration of those women because of all the work. And there is no gold watch at the end of the day…
DS: What about the little rewards—the pleasure of watching somebody eat the bread or the baby sleep?
LENNON: There is great satisfaction. I took a Polaroid of my first loaf. [Yoko laughs.] I was overjoyed! I was that excited by it. I couldn't believe it! It was like an album coming out of the oven. The instantness of it was great. I was so into it, so thrilled with it, that I ended up cooking for the staff! Every day I was cooking lunch for the drivers, office boys, anybody who was working with us. "Come on up!" I loved it.
But then it was beginning to wear me out, you see. I thought, What is this? Screw this for a lark. I'd make two loaves on Friday and they'd be gone by Saturday afternoon. The thrill was wearing off and it became the routine again. So the joy is still there when I see Sean. He didn't come out of my belly but, by God, I made his bones….
Excerpt From: David Sheff. "All We Are Saying." iBooks. https://itunes.apple.com/us/book/all-we-are-saying/id389581231?mt=11