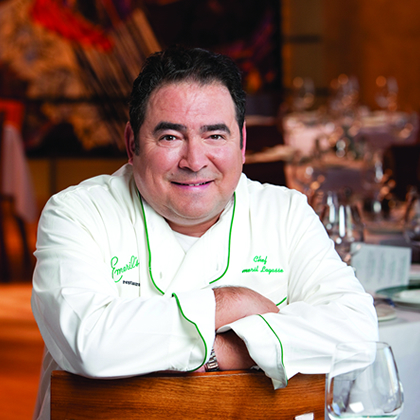 When Emeril Legasse hits the stage, there is whooping and hollering, the type normally reserved for, say, Robin Williams or Mick Jagger. Yet Legasse is equipped not with a stand-up routine or guitar but with a wire whisk.
Legasse, wearing a starched white coat and pleated chefs hat, hunches over a fair-sized hunk of beef, which he gleefully pierces. Into the incisions he stuffs cloves of garlic. "Should we kick it up?" he asks, and a raucous audience of police and firemen yell back with whoops and cheers: "More! Yeah!"
Legasse adds more garlic. Thirty, maybe forty cloves.
The meat is shoved into an oven and Legasse turns to a bowl filled with eggs and flour and other ingredients. He stuffs his hand into a big bowl of powder, grabbing a handful. "What do you think, guys?" he asks. "Shall we kick this one up a few notches, too?"
The audience cheers louder. "All right!" he says. "Let's kick it up just like you said." He throws in the powder, his spice mix called Essence, and lets out a staccato, "Bam!" Then other ingredients are tossed in. "Bam! Some pepper. Bam! Some salt. Bam! More Essence."
Legasse picks up the bowl and scrambles its contents with a hefty wooden spoon. There's music from a studio band that consists of a guitar picker and harmonica and Legasse breaks into a huge smile. "Man," he says, "food rocks, don't it?" The audience cheers and stomps its feet. "Bam!" Time for a commercial.
As only a small (and shrinking) group of the uninitiated don't know, "Emeril Live" is the most popular, wildest cooking show to ever appear on American television. Legasse himself has become a megastar, not only one of the world's most heralded chefs but an hysterically endearing TV personality who has been called "the Jerry Seinfeld of the Food Network" and is known for "bamming" and such platitudes as, "Pork fat rules."
"Emeril Live," available to the Food Network's 30 million viewers, is unlike any food show before it. Legasse, a cookbook author and famed restauranteur, makes cooking so much fun that stuffy foodies have criticized the show, calling Legasse bombastic and the show cartoony. But there have been far more raves. Indeed, "Time" named "Emeril Live" one of TV's best shows in 1997.
Legasse has been on television since 1993, when he signed with the Food Network to host his first cooking shows, "How to Boil Water" and "The Essence of Emeril," both scripted and predictable. It wasn't until the freewheeling, spontaneous "Emeril Live" debuted in 1997 that Legasse was unleashed. The show's audience grew, including people who weren't the traditional cooking-show viewers: men from college age on. It grew wilder by the week. As Dorreen Vigue described it in the "Boston Globe," "[It's] a mashed-potato Mardi Gras revel, complete with a live band and a host who acts as if he'd consider a warning from the cops the proof of a good party. When the biscuits are ready, Lagasse doesn't just stack them on a serving plate: He tosses a few into the audience like a giddy peanut vendor at a ballgame. It's Rocky Balboa with oven mitts, Fred Flintstone as the Galloping Gourmet. 'Hey!' he yells. 'This is like a real cookin' show we got here!'"
Before television, Legasse had a smaller but still passionate following thanks to his restaurants in New Orleans. They serve almost all types of foods but center on Louisiana's creole and Acadian cooking. Emeril's, his flagship restaurant, is considered one of the best restaurants in the country, praised in magazines such as "Conde Nast Traveler," "Esquire" and "Travel & Leisure." Restaurants & Institutions awarded Emeril's Restaurant the prestigious Ivy Award for 1994 and Legasse himself won four nominations as Best Chef in America from the James Beard Foundation. Always packed (reservations are coveted), Emeril's has played host to numerous luminaries, including President Clinton and Bruce Springsteen, who returned for a second piece of Legasse's killer banana cream pie.
After the success of Emeril's, Legasse opened two other restaurants in New Orleans (NOLA and Delmonico's) as well as Emeril's New Orleans Fish House in Las Vegas and his newest, Emeril's Orlando, Florida. They each have unique menus, but all feature Legasse's "kicked up" food wich although centered around Creole and Cajun classics, also include Asian, Italian and Southwestern touches. They often utilize produce from organic farms and local fish and meat suppliers and make everything from scratch, down to the Worcestershire sauce. A typical night's menu might include a eggplant-spring beignets, crawfish etouffee , quail stuffed with corn bread and andouille dressing, and panroasted chicken with oyster dressing and sweet potatoe pudding.
Legasse's growing fame as a chef led to the TV shows and his position as Food Correspondent with weekly spots on "Good Morning, America." He has also written popular cookbooks including "Emeril's Creole Christmas," "Louisiana: Real & Rustic," and the latest, "Emeril's TV Dinners."
Food has been his obsession since he was a child in Fall River, Massachusetts, where he got his accent ("garlic" is pronounced "gawwwwlick") and inspiration to cook. His first teacher was his mother, who taught Emeril her Portugeuse specialties, including kale soup and Portugeuse stew. (Now Hilda Legasse is an occasional guest on the TV show. She has scolded him when he changed one of her recipes. "Come on, Ma!" he responded. "It's my show.")
Lagasse's father, John, worked in a Fall River textile-finishing plant, which is where most of Emeril's friends wound up. But Emeril's first job was at the local Portuguese bakery, where he learned to bake bread and pastry. He later worked at restaurants while studying music. A virtuoso on drums and percussion, he joined a dance band, The Royal Aces, and won a full scholarship to the New England Conservatory of Music.
He turned it down, much to his parents' consternation. Instead he enrolled at Johnson & Wales, a culinary school in Providence, Rhode Island. After graduating, he worked in restaurant kitchens in France, New York, Philadelphia, and Boston. In 1982, at 26 years old, he left the East for New Orleans for the top job at Commander's Palace where he replaced the celebrated chef Paul Prudhomme. He left to open Emeril's in 1990.
Legasse, 39, was twice married and divorced. His first wife, Elizabeth, a schoolteacher, is mother of his daughters Jillian, 17, and Jessica, 19, a student at Cornell. In 1989 he married Tari Hohn, an actress, who worked with him at his restaurants until their divorce in 1996. Now single, he says he has little time for dating. He cooks even on Sundays, the one day he's not working–for his parents or friends.
In a break from his frantic schedule, PLAYBOY tracked Legasse down when he returned to New Orleans from New York City, where he tapes his television show. Contributing Editor David Sheff, who recently interviewed Matt Drudge and Paul Reiser for us, was tapped for the assignment. Here's Sheff's report:
"In New Orleans, the taxi driver boasted about Legasse. 'The President came to New Orleans just to eat this guy's cooking,' he said.
"Legasse, downing shots of espresso at a back table at Emeril's, was more serious than on TV, though he still laughed heartily and punctuated his stories with an occasional 'Bam!'
"Before dinner, each night the wait and kitchen staff gather in the main dining room at Emeril's, where they are prepared for the evening by the boss and his head chefs and managers. Servers' fingernails and uniforms are inspected and each waiter and waitress presents their corkscrews, pens, and cigar cutters.
"After the inspection comes a reading of the night's VIP reservations. A local politician requested privacy. 'Please respect that request,' the staff was told. The sommelier was informed that the politician prefers 'big, red wines.'
"During dinner, Legasse is both the conductor and a player in a complex orchestra, barking orders, answering questions, and presenting meticulously prepared plates of his specialties to some guests. Including me. Here is what he fed your humble reporter: Crepes stuffed with scallops and black-trumpet mushrooms. A parfait with salmon tartare layered with a savory pastry crème, osetra caviar, and shaved hearts of palm. Truffles with hand-cut noodles. Barbecued shrimp with rosemary biscuits. Escolar, the fish he served President Clinton, in a creole sauce, with pecans and vegetables. Venison with andouille sausage mashed potatoes. Finally, a taste of every dessert on the menu: lemon ice-box pie, the banana cream pie drizzled with chocolate and butterscotch, homemade ice cream and sorbet, creole bonbons, and a chocolate Grand Marnier souffle. And then there was the wine.
"Later, in a follow-up interview, I asked Legasse if he had been trying to kill me with the outrageously good eight course dinner. He said, 'If I'd wanted to kill you, you wouldn't be here to ask me about it.'"
PLAYBOY: Not long ago, cooking was primarily for women. What changed?
LEGASSE: In the mid-Seventies, The Department of Labor in Washington changed cooking from a blue collar to a white-collar profession. Cooking became more respected. Maybe that's what it was, because suddenly men were cooking. When I came along doing my thing, it was no big deal. Most of the big cooks were men. The biggest audience of Emeril Live is men–college kids to 50 and older. And they're not the kinds of guys you might expect in aprons. These are regular Joes. Guys who come from regular backgrounds. Because it's okay now. Cooking is cool. You don't have to stay in the closet if you like to cook dinner; you don't have to worry that the guy across the street is going to laugh at you– because he's probably doing the same thing.
PLAYBOY: Is part of the change because families have changed and men have been forced to share in the domestic chores, including cooking, particularly in families in which mothers are working, too? Or have men been cooking all along but in secret?
LEGASSE: Both. There definitely were a lot of men in the closet. There still are some closet bammers out there–you don't fool me. I know that you're waiting to see if the kids are looking and the wife is gone. As soon as she drives down the street, you are at the stove bamming. But there's no need to be in the closet. Everyone is bamming. Cooking is cool now.
PLAYBOY: It was always okay for guys to cook on the barbecue. Why was that different?
LEGASSE: Maybe it was some caveman thing. Playing with fire was acceptable. But now men can cook anything. Emeril helped to plow the path but I'm definitely not the only one. In America, the famous chefs used to be women– Julia [Childs] and Miss Cunningham. In Europe there were always male chefs. Here there was the Galloping Gourmet, Graham Kerr, who is still around and doing a great job. But women ruled cooking. No more. Wolfgang Puck, Charlie Trotter, Paul Prudhomme. There are many of us.
PLAYBOY: Do men eat differently now, too? Do real men eat quiche?
LEGASSE: Real men eat whatever is delicious. "Delicious" is the word now. Several years ago, it would have been "macho." But now it's cool to appreciate any good food. Specifically, quiche iscoming back. Everything–automobiles, fashion, music and food– evolves. Led Zeppelin is back. Quiche is coming back.
PLAYBOY: What else? Don't men still mostly want meat and potatoes?
LEGASSE: And fish and salads and great sauces and everything. I want a good steak once in awhile, but variety is the spice of life.
PLAYBOY: Do you have a favorite ingredient?
LEGASSE: I love garlic. I love onion. I love potato. I love truffles. Really everything.
PLAYBOY: And apparently it doesn't matter what time of day or night you eat, right?
LEGASSE: It's the civilized way. Here you can eat anytime. In New York you can have dinner at 3 in the morning. But in other cities I go to, they say the bar is closing at 11. What? Why? I try to stay away from those places as much as I can. For me, going out to a great dinner is good entertainment. I don't want to be rushed. I want to enjoy every course, enjoy the wine. Twenty years ago, the only true form entertainment that many of us considered was rock and roll; you'd wait all day to get tickets for some show. What else? Maybe go to a hockey game or Major League ball game, depending on where you live. What were you going to do? Go down to the roller-skating rink? Bowling? Most people I know get together and don't do those things much. What they do is go out to dinner. Good restaurants today are entertainment. I'm not talking about the entertainment in the way that they do it at Earth Hollywood or whatever you call them. The food is very mediocre. In those places, the entertainment isn't the food, it's the pictures on the wall. When it comes to great food, though, dinner is an experience. People don't go to nice restaurants because they need to be nourished, but because they want to be entertained. Food is a significant part of life. It's no longer sex, drugs and rock and roll. Today it's food, wine and sex and an occasional cigar.
PLAYBOY: Or, presumably, a combination. Is food sexy?
LEGASSE: No question about it. First of all, people are sexy just being around the whole food thing, whether they are cooking and chopping, at the stove, kneading, stirring–anything. Food is sensual, and that's before you even start to eat. Food covers every sensual sense: sight, smell, taste, feel. Food can be very, very seductive. I have to tell you: I get in these food modes where I can basically blow somebody right off their chair if I want to. That's because food can inspire other senses, other moods.
PLAYBOY: What exactly do you mean by blowing someone off her chair?
LEGASSE: I can put someone on a food high. It's like getting such an unbelievable massage that you are drunk. Food can do that, too. People come to our restaurant and propose. They didn't plan to do it, but they get caught up in this heady, excited state. You never know what will happen.
PLAYBOY: That sounds dangerous.
LEGASSE: More often, it's the opposite. People usually come to the restaurants in a pretty good mood, but I have to say that they usually leave a lot happier.
PLAYBOY: How much do wine and other libations contribute?
LEGASSE: It all works together. It is all part of the experience. But when you have had transcendental meals, or however you want to put it, you know what happens: you put something new in your mouth and you have the taste and the flavor and it hits you and you just can't believe it gets better than that. And then it does–with the next course. Food is seductive. And it seduces. People win people's hearts with food. Always have.
PLAYBOY: Are certain foods aphrodisiacs? Really?
LEGASSE: I think they are. It's sure true that some of the experts say oysters are. Some of the experts say that chocolate is; the Aztecs used to drink chocolate to become sexually aroused. They ended their meals with chocolate just like we often do.
PLAYBOY: So chocolate cake works?
LEGASSE: I think it does. It seems to work for a lot of people who leave our restaurant very happy. Now whether they run home and jump into bed, I don't know. But they have left here on the right track. Maybe it was the chocolate. For some people, the turn ons are other desserts. For some, it is a particular caviar. For some people, it is a sauce. I have a sauce that we do that is like a love potent. I swear: You could put it on anything and you would have to be an idiot not to score.
PLAYBOY: Are there others aphrodisiacs?
LEGASSE: Champagne works. Alcohol in general works, but there are other foods, too. Some people tell me that pork fat works.
PLAYBOY: Pork fat?
LEGASSE: Hey, I'm just reporting. Bacon, sausage or some other pork fat. People have told me that gravlax and other cured fish does it for them. For some people, it is Japanese food: sushi or sea urchin, those little gifts from the sea.
PLAYBOY: What does it for you?
LEGASSE: For me, it is just having a great dining experience. The whole thing works for me. It doesn't have to be a fancy dinner with multiple courses. I had roast chicken last night. It was perfectly cooked: simple and ideal. When I finished, I felt, If something came down and crashed into the world right now, I could accept it; I would be fine.
PLAYBOY: Can you recommend a recipe for novice cooks who want to impress a date?
LEGASSE: There are guidelines I can recommend. Do something simple so you can relax and enjoy the evening; you don't want to spend the entire time in the kitchen. Start light—an easy salad or something similar. An elegant but simple main course. Find out in advance what she likes; do some detective work. Select wine or Champagne or whatever the meal calls for—or whatever she prefers. Finally, follow the five Ps.
PLAYBOY: The five Ps?
LEGASSE: Proper practice prevents piss poor performance. In other words, experiment in advance. Try the meal out on your friends or family beforehand. You don't want surprises.
PLAYBOY: How about when people cook for you? Are they intimidated?
LEGASSE: All I know is that I rarely get invited to anybody's house even though I am really the simplest guy. You don't have to make anything fancy. I don't eat "gourmet." I just want you to cook me a great hamburger and I'll be happy. A good mac and cheese would make me very happy. Simplicity goes a long way. I always tell people that to have great cuisine you just have to have great ingredients prepared honestly. Nothing has to be expensive. Preparations don't have to be complicated. There's nothing like fresh, delicious, simple vegetables, cooked well.
PLAYBOY: What's your opinion of vegetarianism?
LEGASSE: I think it's a great choice for some people. All of our restaurants have a vegetarian sense about the menu. You are not going to find any asterisks or hearts or circles with spears that signify vegetarian food. Why do they have to be singled out? I don't believe in singling people out because they don't eat pork or they have dietary constraints or they are a vegetarian. In our kitchens, we think nothing of creating a whole vegetarian tasting for someone who wants it. And I think vegetables are good. The challenge is to be creative with simple ingredients. How challenging is it to be creative with caviar, foie gras or truffles? Try being creative with a snow pea or a French bean or a potato. That's a challenge.
PLAYBOY: Are you too much of a carnivore to consider giving up meat?
LEGASSE: I don't need to. I believe in moderation. I don't preach what you should or shouldn't eat, but I do tell people that moderation is everything in life.
PLAYBOY: How concerned are you about healthfulness of your recipes?
LEGASSE: Very. Educating about healthy food is a big mission of mine. Again, I preach moderation. You don't have to give up butter, you don't have to give up fried food, you don't have to give up beef or lamb or shrimp. You don't have to give up wine. Unless you have an allergy to any of those things. Otherwise, moderation is everything. I'm the guy who says, "port fat rules." But I don't eat pork fat every day. I'd be the first one to sit down with you and eat a bag of cracklin's, but we can't do that every day. Moderation.
PLAYBOY: Moderation? How about a meal we saw you prepare on TV that included a thick steak with both hollandaise and béarnaise sauces and a fried potato pancake that was stuffed with grilled onions, a pile of cheese, and tons of bacon?
LEGASSE: That was an off-the-charts kind of show and an off-the-charts kind of dish. Once and awhile, go for it. Most of the time, moderation. Since I use port fat and butter and all this other stuff, I've been criticized, but a panel of dietitians tested recipes of the chefs on the Food Network and Emeril's came out the best, with the lowest calories and cholesterol. I'm a purist. I don't believe in anything artificial. I make my own everything–Worchester sauce, ice cream–because I don't believe in stabilizers or chemicals that keep things on the shelf for a long period of time. So I'm a purist but I eat everything.
PLAYBOY: But study after study has shown that ingredients like butter, cream, eggs, and beef are harmful.
LEGASSE: Ok, but look. Let's say I'm going to make a roux and use oil or butter as the fat. Let's say I'm making a gallon of gumbo, which is, with rice, enough to serve to eight people as a main course. For a gallon of gumbo, you'd need a roux that is made with a half a cup of fat and a half a cup of flour. Divide that into eight or so servings and look at how much of the fat each person is really consuming. People don't think things through.
PLAYBOY: What about deep-frying, the preferred method for many southern dishes? Do you maintain that it's okay, too?
LEGASSE: Moderation. But also the frying has to be done right. You have to use the right fat. You have to keep it at the right temperature. If you do, how much oil do you absorb into an order of fried chicken or soft-shell crab? Where people go wrong is they don't use the right oil and the right temperature, so all the saturated fat is sucked into whatever you're cooking. That's when the food gets greasy and it is really hurting you. McDonald's French fries are good and they sell billions because they use vegetable oil and frying them at the right amount of time at the right temperature.
PLAYBOY: What's your cholesterol level?
LEGASSE: Less than 200 and I eat foie gras at least once a week.
PLAYBOY: Do you exercise?
LEGASSE: I'm not a fanatic. I do when I can but I don't have a lot of time.
PLAYBOY: Do you believe in the French paradox, which has shown that there is less heart disease in France in spite of all that butter, cream and wine? Some people maintain that the red wine is responsible for the good check ups.
LEGASSE: All I know is that I am very serious about wine. It's one of my hobbies. I drink wine everyday. It makes me feel happy and makes me feel good. I recently had another physical and the doctor said, "I can't believe this! Your cholesterol is fabulous! Your blood pressure is great! Your heart is great!"
PLAYBOY: Instead of the good report, how would you have responded if your doctor put you on a diet of boiled chicken and cottage cheese?
LEGASSE: No way! I couldn't do it. I'd have to find another alternative.
PLAYBOY: What if the doctor said there was no alternative?
LEGASSE: Sorry. I love food too much. I eat a proper balance of foods, which I think is important—grain, vegetables, greens: You mix it up. I think that's why I'm okay. You can't eat steaks seven nights a week.
PLAYBOY: Do you smoke cigars?
LEGASSE: We started a cigar program at Emeril's before it was cool. It started in 1990 and is probably one of the largest cigar programs in North America.
PLAYBOY: It would be tougher in California with the no-smoking-in-restaurants law.
LEGASSE: That is why I don't live there. California is beautiful, but I could never live there. New Orleans is one of those feel free kind of cities. In California, you go to a bar, you're out with the guys, you're out with the gals, you are having a few pops and you can't even smoke! You have to go outside to the parking lot to smoke between quarters of the football game! It is a little bit too extreme as far as I'm concerned. Give me a smoking section. Make it mandatory that restaurants and bars have air-purification systems. We have them even though we aren't mandated to. But come on.
PLAYBOY: But can't cigar smoke at one table in a restaurant get in the way of a great meal at another table?
LEGASSE: Of course. First, we have smoking and nonsmoking sections. We also have times that cigar smoking is permitted and times it's not permitted. Late at night, when the evening is winding down and new guests aren't coming in to start their meals, the cigars come out. We live in a city here that is probably one of the most European influenced cities in America. It's nothing for us to have 11, 11:30 reservations on Friday and Saturday nights. That puts people at the bar smoking cigars at 1 or 1:30 in the morning before they go out to a club. They'd be long asleep in most American cities.
PLAYBOY: Are there any rules that you enforce at Emeril's?
LEGASSE: We try to have you keep your clothes on while you're eating and have you pay the check. Actually, we may not always care about the first. In fact, that rule has occasionally gone out the window.
PLAYBOY: Are Cubans the best cigars?
LEGASSE: [Big smile] That's what they say. We have a very broad selection of cigars in all of our restaurants, a hundred at Emeril's. All the waiters have clippers; you have to have the tools to work.
PLAYBOY: When President Clinton recently ate at your restaurant, what did you serve?
LEGASSE: We did a cold soup with cucumber and Louisiana crab meat and a very light relish. Then a prawn-encrusted escolar, a fish that is very difficult to get; it's line caught, very juicy, unlike tuna that can get very dry. We served mashed potatoes, a crawfish meneure sauce and some French beans with a little relish. He was blown away.
PLAYBOY: Though he's famous for his love of McDonald's French fries, does he have a sophisticated palate?
LEGASSE: He greatly enjoys good food.
PLAYBOY: President Bush was famous for his loathing of broccoli. Could you have done what Barbara Bush was never able to do: make Bush like broccoli?
LEGASSE: Definitely. I'd make it in a cheese sauce and he wouldn't know what hit him.
PLAYBOY: Do you ever eat at McDonalds?
LEGASSE: No. Well, rarely. If I have a kid with me who demands it. I can count on one hand the number of times I go in a year. I get my annual craving for Popeye's, generally around Mardi Gras. But if I want to eat a great cheeseburger, I go to a great cheeseburger place.
PLAYBOY: Such as?
LEGASSE: I have spent quite a bit of time researching this. I've been all around America looking for the greatest cheeseburger. Now I'd say it is in Mount Pleasant, South Carolina, outside Charleston. It's a barbecue place known for ribs. The name is Melvin's.
PLAYBOY: What makes the greatest cheeseburger?
LEGASSE: They grind their own meat, hand-form the patties and do them on a grill. There's a bit of hickory in the grill, too. There's a great bun and real cheddar cheese, none of that processed junk. The guy is a fanatic. He has the best fresh sliced onion, the best lettuce he can buy, and the best vine ripened tomatoes. It's served with homemade pickles.
PLAYBOY: What trends in cooking do you most loath? LEGASSE: The worst was that nouvelle cuisine nonsense.
PLAYBOY: What do you have against nouvelle cuisine?
LEGASSE: Seventy-five percent of the dishes had a butter sauce, though they were flavored with mustard or tarragon or orange or whatever. But butter sauce is butter sauce, right? We would take a two-ounce piece of duck and make it look like it was 18 ounces. The whole thing was about the presentation and adding a blueberry. I did it and I'm glad I got out of it real quick. We were mixing and matching lobster with blueberry sauces and salmon with rhubarb and all this crazy stuff. Food is chemistry and that was bad chemistry. It never worked for me. I always preferred the basics. There's another terrible trend that some of us had to go through. In fact, I'm sad to say that there are still pockets where it is happening. It's the bastardization of what was stamped Cajun cuisine. People had no knowledge about what it is so any food that burned your throat was called Cajun. Food was rubbed with every kind of spice. Everything was blackened, from English muffins to prime rib. I'm glad that we're leaving that behind.
PLAYBOY: Did that come from Paul Prudhomme influence?
LEGASSE: Paul certainly didn't encourage it, but it happened because of his popularity. People who never really experienced New Orleans cooking, who never experienced the ingredients and techniques which has made it one of the true American cuisines for over 300 years, made up their own ridiculous versions and it was even worse than lobster in rhubarb sauce.
PLAYBOY: What types of food were you raised on?
LEGASSE: My mother was an incredible cook, Portuguese. She made everything. Her repertoire includes things I still do: her kale soup, her beans, her stuffing, her chicken. She used to do a chowder, crusted pork chops, New England boiled dinner. Getting hungry. Now that they live here, she has learned New Orleans food, too. During crawfish season, my mom and dad have a stove top crawfish boiler every Saturday at home. My first job was in a bakery in my hometown. Unbelievable. Ten years old. I started washing pots and pans. Then I started baking with the old bakers at night. I watched them make breads, sweet breads, Portuguese pastries, custards, cornmeal breads.
PLAYBOY: Your father worked in a textile plant and it was expected that most of the kids in your neighborhood would work there, too. Was that how you thought you would end up?
LEGASSE: No way. My dad always told me that I had to go and make something of myself. I saw the lives of the people in those plants. That's not what I wanted to do. That's not what I considered fun.
PLAYBOY: Did you have any sense that you could make a living as a cook?
LEGASSE: Not really. There were no fine dining restaurants in my hometown. I thought I might do something with music, which I loved and studied. I could have gone in that direction. I had a scholarship to a music college but chose instead to pay to go to cooking school.
PLAYBOY: How did you decide?
LEGASSE: Music is inside me; when I cook, music is continuously going through my body and my brain. But cooking was more seductive to me because of the way you can play with people's senses. My parents were crushed when I told them that I was choosing cooking over music. My mom cried and was upset for the first couple of years. She just couldn't understand how I could make a choice like that. She didn't understand. I had a free ticket to the New Orleans Conservatory. I had already done two summer camps at the Conservatory. Plus I made a lot of money as a young child playing music. I was in bands: The Saint Anthony Band, which was an orchestra, a Portuguese band that played orchestra music, and a symphony. I played percussion for one of the original bands back with Aerosmith when Aerosmith was just coming up. My forte was the drums. But I got something else from cooking. I think that there are a lot of similarities between them. Music was also about giving people a wonderful pleasure; it made happy. But food was more pure. It tapped a lot more sensations. There was a more direct response. I never got a royalty check and or award for selling a million copies of banana cream pie, but I have had a lot of experiences making people happy.
PLAYBOY: How did you train to be a chef?
LEGASSE: I started with my Mom's Portuguese cooking with a little influence from my dad's French Canadian background. Then I got interested in the classics and began a formal education in them. I paid my way through cooking school. Then I got first -hand experience in restaurants. I went to New York City to cook, but had trouble there because I was American. Americans weren't supposed to know anything about food; all we knew was about hamburgers and cheeseburgers and macaroni and cheese. At the time in the mid-Seventies, the good New York kitchens were run by French and German and Swiss cooks. It was very difficult to get a job. So I went to France to work in kitchens there.
PLAYBOY: In some of the great French restaurants?
LEGASSE: In some great ones and some not so great ones. I definitely got an education. I got beat up and pushed around and shoved and did all the grunt work. But that was okay. That was part of it. I didn't speak the language. Didn't make any money. In a lot of these fine-dining restaurants the dishwashers were Portuguese; they were the inexpensive labor. So I had to cross that road also. "Oh, you're just a Portugi? You're lucky to be shucking oysters. You should washing pots." Fine, I'll wash pots. It doesn't matter to me. But the computer was on the time. I said very little. I just sucked in every piece of knowledge that I could. Meanwhile I ate a lot of employee meals. I had to eat a lot of mystery meat and nasty cheese and drink a lot of watered wine.
PLAYBOY: When you returned to America, what was your first significant job?
LEGASSE: I went to go work for a small hotel company, Dunphy Hotels. I did a stint for them and a little bit at the Parker House. I worked with a man who became a mentor; a German chef named Andreas Sulno. Dunphy ended up buying a hotel that later became one of the original Four Season Hotels. I went there as a sous-chef. He became the director of food and beverage and I ended up taking over the chef's job. Next I did a restaurant for another hotel. For awhile I worked for Wolfgang Puck.
PLAYBOY: What's your assessment of his cooking?
LEGASSE: Wolfgang is one of the most talented chefs there is. He is also a nice man. This was a new project in New York City; I was part of the team. Wolf was very, very hard on me when I worked for him. He didn't know me. I was no one. He was a perfectionist and very, very talented. But he worked me very hard. We're great friends today. But the big change came when I was working and doing some consulting work in Cape Cod. The famous New Orleans Brennan family, whose restaurant is Commander's Palace, vacationed there. I met them. When Paul Prudhomme was leaving Commander's Palace to start his own restaurant, K-Paul's, I was asked to come in. This was 1982. I had the opportunity to come here to take over for the Brennan family's famous restaurant, Commander's Palace. It is like going to another university, Brennan University. They were one of the older families running one of the most important institutions in New Orleans.
PLAYBOY: But you were an Easterner!
LEGASSE: You'll be surprised at the relationship of the foods I ate when I was growing up and Arcadian and Creole cooking. I was also a student of food in general, open to learning and experimenting. At first there was a small distrust, I imagine, but soon I was an adopted son and a damn serious one, too. These were some big shoes I was filling there. At the same time, I was very young. Twenty-six. I came in with big guns drawn. I lost a lot of people real quick because I was young but I wasn't stupid. I wasn't going to put up with nonsense. I wasn't going to put up with mediocrity. I began right out the gate setting the standards that no, we weren't going to use canned this; no, we weren't going to use frozen that. We were going to go from scratch. I brought in a young sous-chef from France. When I was there, Commander's Palace was truly one of the greatest restaurants in America. Even PLAYBOY said so. Then I finally got my own restaurant.
PLAYBOY: Did you learn Louisiana cooking on the job?
LEGASSE: I did. I loved every one of those traditions and just added my own thing to them. The fusion is what made me what I am now. These were exciting cuisines, defined by the local ingredients. The river influenced the Creoles, which is the city cooking. The lands, bayous and the sea influenced the Arcadian or Cajun cuisine. These people hunt and fish and forage, live off the land. New Orleans, a large port city, also got ingredients from around the world and they filtered into the cuisine. So I was very happy here.
I fell in love with the people, first of all. I fell in love with the elements of what New Orleans stands for. I close my eyes and feel as if I have never ever been out of New Orleans. And then was the food. It excited me to see people excited about food; it's why I decided to do it as a profession. And there's the music. Music is in the air in this city along with the food. I also love the architecture and the whole feel and spirit of New Orleans. It's my whole feel and spirit. I love to live. I live to eat. I don't eat to live. I love the soul, the soil, the sea, the bayou, the trees. Like I said, I close my eyes a lot of times and feel like I have never not been in New Orleans.
PLAYBOY: Was Emeril's Restaurant an instant success?
LEGASSE: It was. And it was a big risk, because I built the restaurant in a part of town that wasn't yet redeveloped. But it did well and got lots of attention and we were turning people away every night. It led to the other restaurants. Now, with the new one in Orlando, that's four.
PLAYBOY: What lead to Emeril Live?
LEGASSE: I got approached and decided to try it; I did it because of being able to influence people, especially young people. That's the God's honest truth. I knew TV could reach people I never would reach otherwise. I started and did a basic cooking show. Cooking isn't rocket science; you're basically dumping all the shit in a bowl. You don't need a doctorate. But I wanted to make it fun. I didn't like the boring thing: take a quarter of a cup of this and an eighth of a cup of whatever. Do most people cook like that? Do they go home after a hard day's work and bring a recipe to the stove and put in the cup of flour? Give me a break. For the most part, people are throwing together a decent meal, adding a little bit of this, a little bit of that. Maybe there is something to throw in that's leftover from last night. Who knows? So instead of another dreary show, I wanted to do something fun. Fun should equate to delicious. It doesn't have to be difficult.
PLAYBOY: Your first show was How to Boil Water. Are there secrets you can impart?
LEGASSE: That one didn't last because there really weren't any. The president of the Food Network called and said, "Emeril, I've got good news and some bad news. The bad news is that we think you're a little over qualified for How to Boil Water. The good news is we think you've got some television ability and you're a heck of a cook. We want to try something else." It was The Essence of Emeril. My schedule was insane. I worked 90, 100 hours at the restaurant. I would leave the restaurant on Saturday night at 3 or 4 in the morning, sleep for an hour or two, pack and blaze up to New York City on Sunday. I'd hit La Guardia, get into the car and go right to the studio and to shoot five shows. Then on Monday I shot seven. Tuesday I shot seven more and then I got back on the airplane on Wednesday so that I could get off the plane and get back onto the line and cook at the restaurant. I drank a hell of a lot of espresso. I was bored out of mind. There is no audience. Everybody in the studio was in what I call Houston: behind glass in the control room and behind cameras. I'd be ready to fall asleep and so I started the "Bam" thing to wake everybody up. I grabbed a pinch of spice, elevating the level of spice in the dish, which transformed into "kicking it up a notch." Those things became my signatures. But my real talent–and what keeps it fun for me–are the people. Cooking shows on TV don't generally have people, which is why we changed to Emeril Live with an audience. That's when the magic came.
PLAYBOY: There have been some criticisms of Emeril Live–that you don't take food seriously enough, it's too cartoony. How do you respond?
LEGASSE: I don't hear those things anymore. I did at first, but who cares? Who said food should be serious? Food should be fun. Who made them god of the culinary world?
PLAYBOY: Did Emeril lead to your job as food correspondent for Good Morning America?
LEGASSE: I was asked to do it and needed that job like a need a hole in the head, but the thing that stoked me was the opportunity to reach even more people. I'm not the resident chef on the show, but as a "food correspondent." It means that I can impart my knowledge beyond just a chicken dish of the week. Here was a real opportunity to educate people about food. I have done shows on everything from buying eggs to oils. People take this stuff for granted, but there's a lot to learn.
PLAYBOY: What is there to learn about oils, for instance?
LEGASSE: In a supermarket, you see an aisle of oils. How do you know which one you should use? Which one you should fry in, which one should use for salads? There are a dozen different types of olive oils alone. I'm doing a piece about that.
PLAYBOY: Well? Is olive oil best?
LEGASSE: It completely depends what you're cooking. If you use extra virgin olive oil in some salad dressing, you overpower your salad. You have to be careful to balance. It's education. In a light dressing, I might use a vegetable or peanut oil. Other nut oils bring great flavors, but they're more perishable than other oils.
PLAYBOY: Isn't olive oil healthiest?
LEGASSE: Canola and other grape-seed oils are much cleaner, though they're a bit more expensive.
PLAYBOY: How about eggs? What's so complicated about buying them?
LEGASSE: The main thing is when you're buying 'em is what we don't do. We're all guilty of this: We go into the supermarket, go to the eggs, and look around to see if anybody is watching. You pick up a carton and open it up and play with the eggs to see if they're broken. They think that if the eggs are totally intact it's a great carton of eggs.
PLAYBOY: They're not?
LEGASSE: Not necessarily. And nine out of ten people never look at the expiration date on the carton. When they buy milk, they check, but not with eggs. It's simple but people don't know.
PLAYBOY: Do you prefer eggs from farmers or store bought?
LEGASSE: Fresher the better, but you have to be careful about the eggs from the farmer; they might be sitting in the sun all day long at the roadside stand. You have to be very careful. There seems to be more and more reports of problems from bacteria like ecoli. Recently Costco recalled all those burgers. You do have to be careful.
PLAYBOY: Besides checking expiration dates, what should you watch for?
LEGASSE: If you go buy a car at a not too reliable car dealership, you are probably going to end up getting a bad car. If you take it a step down and go try to buy a used car and you don't go to a reputable person, you are probably going to get a lemon. If you go buy eggs from a person that you don't know, you are in jeopardy. At least meat is controlled. It has to be US graded. There aren't any restrictions on fish. But with anything, you could get pretty sick if you don't know what you are buying and whom you are buying it from.
PLAYBOY: Is your advice to buy from local butchers, produce markets and whatever instead of the big chains? Is smaller better?
LEGASSE: Not necessarily. You need to have a good butcher or fishmonger, whether small or large. If you go into smaller places, you'll probably be able to establish relationships with the people who are serving you, which mean a lot. At farmer's markets, which are great places to get produce, you come to know the people you're buying from, too. I don't really blame the beef problem on Costco; they had to rely on someone to make that purchase. But the closer you are to the source of your food, the more accountable people are and the more likely it will be safe. I am a fanatic about every ingredient I serve in my restaurants. I get fish at the back door from people I know. I work with the same farms year after year for produce. I raise my own hogs and make our own ham and bacon and tosso, a spiced ham, predominant in Arcadian and Louisiana food, lean and cured and heavily spiced. You wouldn't necessarily have a tosso sandwich, but you would find it in a good etouffee or gumbo. You gettin' hungry?
PLAYBOY: You make a big point about fresh ingredients. But what about people who don't have access to fresh ingredients?
LEGASSE: There are fewer and fewer excuses. There are farmer's markets in more and more cities. But if you can't get them, you can't get them. You do the best you can.
PLAYBOY: Do you ever use frozen vegetables?
LEGASSE: We don't have much of a freezer in my restaurants except one for ice cream and a very few other things. I am not saying there is anything wrong with frozen. We just don't use them; it's not part of our philosophy.
PLAYBOY: Does that mean that we won't be seeing a line of Emeril's frozen foods similar to Wolfgang Puck's?
LEGASSE: I don't foresee that. The only commercial line we have is my spice and the cookbooks. You can get a cookbook that hopefully has multiple meal memories in it for what it costs for one of those pizzas, which barely feed two.
PLAYBOY: If not frozen, how about canned ingredients?
LEGASSE: When you need to. Let's take tomatoes. There are probably twenty types of canned tomatoes that are on the shelf in any grocery store whether you are in Des Moines or New York City. Find the best one that you like. You can read reviews, too; even canned tomatoes are reviewed. Or you can try them and find the one you like. There's nothing wrong with a canned tomato as long as it's a good canned tomato.
PLAYBOY: How about canned meat? Have you ever tried Spam?
LEGASSE: I've been a big Spam fan for a long time. I have a good friend, Sam Choy, a great chef and restaurateur in Hawaii, who is famous for his Spam dish; it was in The Wall Street Journal. This Spam dish is on the menu at his very kicked up, fine dining restaurant. It's this Spam loco moco dish, delicious, incredible, fried rice, loco moco kind of thing with brown gravy. It's to die for. I wish I had some right now.
PLAYBOY: What's the best meal you've had in your life?
LEGASSE: With some colleagues, I had the great fortune to get some reservations during the last week that Fredy
Girardet had his restaurant in Switzerland. A lot of us considered him to be the pope of cuisine and he was closing down and it was very sad. But we had two back-to-back reservations a couple of days before he officially retired. The dinners were phenomenal, unbelievable. Before that the meals I remember were on a trip I took with my chef de cuisine from Monte Carlo to Paris. Some days we drove four or five hours just to eat another great meal. We did two extraordinary meals a day for eight days straight. In this country, probably some of the best food that I have had was at my friend Charlie Trotter's restaurant in Chicago.
PLAYBOY: What has Trotter contributed to American cooking?
LEGASSE: He's a phenomenal cook, a phenomenal chef–just a tremendous restaurateur, a guy that can really uphold standards and really set amazing standards for the restaurant industry in this country. His style is stripped down, lots of vegetables and immaculate seafood. Fresh ingredients. He flies them in.
PLAYBOY: What did your past boss, Wolfgang Puck, contribute?
LEGASSE: Not only did he, along with Alice Waters, pioneer California cuisine, but he brought back a sense of the classics into whatever he cooked. He was one of the first guys to fuse the whole Asian Pacific Rim, too.
PLAYBOY: Alice Waters?
LEGASSE: She is the godmother of American cuisine. I have a lot of respect for her. She was the one to inspire me about using local produce from local farms, to work with local farmers and bring that element back into the restaurants.
PLAYBOY: James Beard?
LEGASSE: Beard influenced a lot of people, particularly men. He was the first man that showed that it was okay to be a guy and to cook. One of his disciples, Larry Forgioni, a chef in New York, influenced me a lot.
PLAYBOY: Julia Child?
LEGASSE: There is only one Julia. That lady is just amazing. One of my first experiences as a cook was cooking for Julia Child in the mid-Seventies. I introduced her to crawfish and etouffee. I taught her how to suck head and pinch tail.
PLAYBOY: To suck head and pinch tail?
LEGASSE: That's a crawfish thing.
PLAYBOY: What exactly does it refer to?
LEGASSE: To eat the crawfish, you have to snap it. You suck the head, which is where the fat and juice are. Then you peel the tail and pinch it to get at the tail meat.
PLAYBOY: Is there an up and coming chef we should watch out for?
LEGASSE: There's a lady called Ann Kearny in New Orleans with a new restaurant called Paris Style. Food and Wine Magazine named her one of the top ten new chefs in America. Annie is going to make a significant. It's classic Provencal cooking mixed with New Orleans. Bernard Carmouche is an up and comer, though I may be biased. He is with me at Emeril's and was my first pot washer at Commander's Palace. We made a deal at that time: You finish school and get an education and a degree; I'll teach you how to cook. He's my chef de cuisine now.
PLAYBOY: Paul Prudhomme?
LEGASSI: A great guy. A special human being. Certainly he was one of the guys responsible for the regional movement of American cuisine. You couldn't find a more humble, nice man. A great cook.
PLAYBOY: Why have is it so many chefs have become stars?
LEGASSE: It's just new in America. There were big-name chefs in Europe for a long time. In America, it all changed within the last five or so years. It coincided with when we began respecting regional cooking and fresh ingredients, ingredients right from the farms. Now some chefs are respected on a level of rock and roll or opera singers or third basemen for the New York Yankees. In my case, television is obviously very powerful.
PLAYBOY: Celebrity chefs like those seem to hobnob with other celebrities. Has your cooking brought you in contact with any of your music or movie heroes?
LEGASSE: Music and food come together. That's for sure. We've brought people on the show who love food. The people who make music are in my life because they come to me for food. I get the best of both worlds. Billy Joel is one. He's a great cook and a great guy. I think I influenced his cooking a little bit. Certainly I think I might have kicked up his wine palate a few notches. And there is nothing like Bruce Springsteen pulling up in a limousine saying, "Can I have one more banana cream pie before I leave town?"
PLAYBOY: What movies have made you hungry?
LEGASSE: The Godfather. It makes me hungry and puts me in one of those seductive moods that we talked about earlier. I have about four Godfather annuals with very close friends. I get up early in the morning and make a pot of red sauce that simmers all day long and smells up the whole house. I go and get some really big, luscious, gutsy wines. I make a bread dough that proofs for several hours and then smells up the house, that whole crusty bread thing. A big wheel of Parmesan cheese and make the pasta. Invite a few friends over and watch the Godfather, maybe even parts one, two and three. We eat pasta once or twice; drink a lot of red wine; eat crusty bread.
PLAYBOY: What's the typical day for you like food-wise?
LEGASSE: I don't usually eat breakfast. I have coffee and a piece of bread. I don't eat pastry. I'll have a simple lunch–could be a salad, could be a sandwich, could be a piece of fish. My big meal is at night after the last customer leaves the restaurant. We set a table for everyone and have a full dinner, always with wine, before we lock up and go home. That's how it's been for ten, fifteen years straight. I don't mind working the crazy hours and the schedule and the pressure and the people and the customers. I don't have any problem with that–as long as dinnertime comes and I get to sit down to at least one good meal each day.